---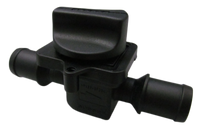 This direct, 2-way water valve controls coolant flow through an 16 mm diameter port. The opening has been specially designed to open and close in small increments that cause the environment to change by minimal amounts eliminating sudden, unwanted increase or decrease in temperature. The valve itself is made of a bi-polymer rotary ball and so is unaffected by whichever coolant is used. It has a direct lever to open and close the valve.
Aurora's Standard Mechanical Water Valve
Aurora's mechanical water valve with rotary knob adjustment comes as a 16mm diameter standard connection. The rotary knob gives the operator easy adjustment of the heating performance. This water valve has mostly linear operating characteristics, and operates efficiently with a minimum pressure loss. The valve housing is comprised of Polyamide 66 Material, providing our line of water valves with lightweight and non-corrodible qualities.
Flow medium: water with antifreeze mixture ratio max. 1:1
Volumetric flow: 100-1200 L / h
Operating temperature range: -40°C to +120°C
Environmental temperature range: -40°C to +85°C
Nominal pressure of the fluid: p = 1 bar relative
Test pressure of the water valve p1 = 2.5 bar relative